TRAS
Think Responsible Act Sustainable
– by Shivanshi Marwah
VI Semester, B.Sc. in Hospitality and Hotel Administration
TRAS- Think Responsible Act Sustainable is the initiative taken by Institute of Hotel Management, Pusa, New Delhi under the LEADearthSHIP program organised by TERI and GENPACT. "LEADearthSHIP is a youth program for Undergraduate and Postgraduate students focusing on leadership and business sustainability."
During this challenge, a Campus Impact Group (CIG) comprising of 25 members was formed and Mr. Hitesh Khanduja (M Sc. Hospitality Administration) is the President of CIG.
The objectives of TRAS are as follows:
To create awareness among students regarding sustainable consumption.
To optimize the usage of resources in the Institute.
To minimize the waste generation in the Institute.
IHM Pusa already had many Green Practices in place, even before enrolling for the Campus Impact Challenge, by TERI such as Yield Management in Food Production Labs, optimum sunlight usage in classrooms, energy saving while using projectors, regular annual mainteance of gas ranges, regulation of LPG pipeline, horticulture, absorption method of preparing rice, water saving in vegetable wash. Also, the institute is the only Hotel Management Institute to be HACCP certified.
Further in this report are the various measures taken by the institute to meet the objectives of creating a sustainable and green campus.
1. Measure taken to create awareness
The Institute's Eco club has approximately 100 members, who create awareness about protection of environment and optimum utilization of resources through various activities such as street plays, skits and initiatives like collection of chef caps and their recycling.
The institute has started an initiative – "Kya Aap Jaante Hain" in which students from first year of B. Sc. Hotel and Hospitality Administration (HHA) announce the facts about sustainable consumption on Public Address System. These announcements are done at 10:30 AM daily. The Public Address System is attached to all the classes and it can reach to more than 700 students at a time. Also, a presentation on sustainable consumption is displayed on E-notice boards. The locations of these E-notice boards are dining hall, lobby waiting area and restaurant (The Scholar), where the foot fall is high and the students have time to see the presentation. The presentation is displayed from 9 am to 5:30 pm.
Street play on sustainability was developed and performed by students of the institute, a number of times at the Institute, Rajender Nagar Metro Station and Vasant Vihar residential area during the 2014 and 2015 sessions.
2. Achieving Zero Food Wastage
The Institute, being an institute of Hospitality Management, imparts education in Food Production and Service to approximately 1000 students. During these classes, innovative practices are followed during the pre-preparation, cooking, service, consumption and storage of food to minimize the waste.
During the preparation stages, a unique concept of "Root to Stem" was initiated since March, 2016. In this concept, maximum parts of vegetables and fruits are used for food preparation and consumption. The waste generation has been reduced to 1.50 Kgs per day from 19.55 Kgs of waste generated per day earlier. Also, the month of March this year was observed as "Vegan Month", in which no dairy and meat products were used. It was done to optimize the yield of vegetables as compared to meat items.The cost of purchase of vegetables and fruits at the institute was reduced by 34% and 100% reduction of meat products reduced the cost by Rs. 1,25,000/- .
For preparation of foods, standard recipes are followed. Yield Management is taught and practiced in Food Production practical classes. Continuous monitoring of the students is done while they are in the labs. Combi-ovens are used which reduce the oil consumption by one fourth of the traditional frying.
The system puts up faculty for mess duty during lunch hours so as to ensure that students do not waste any food. Also, during dinner hours, hostellers are assigned mess duty for the same reason. Every morning student head count is given to Quantity Food Kitchen where the lunch is prepared for the students. As a result, average food waste in the month of March 2016 was just 141 gms per day with 550 students during lunch service.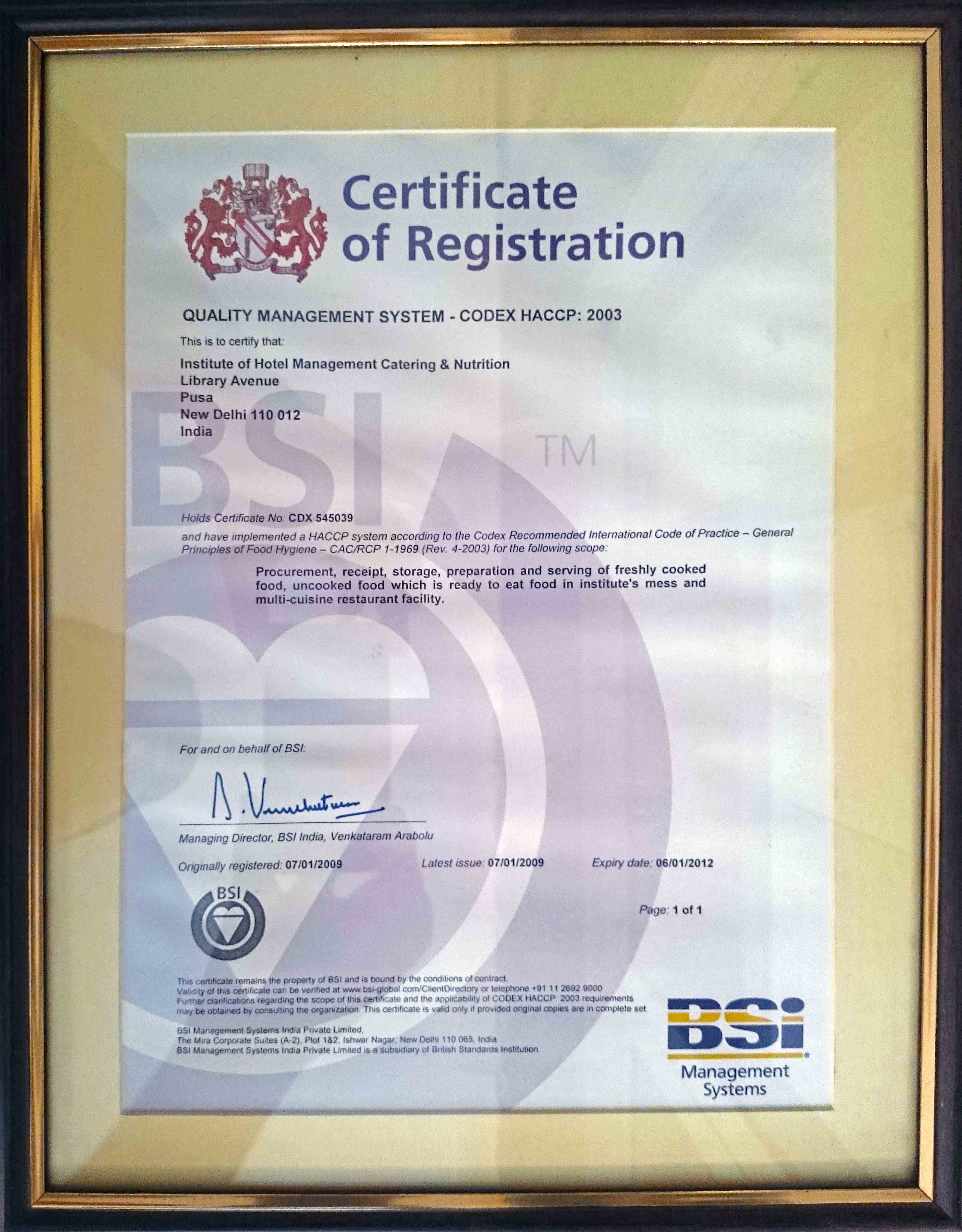 100% utilization of leftover food was done through effective storage mechanism and re-preparation of new dishes. As per HACCP standards, cold storage temperature is maintained below 5 degrees Celsius. Chefs innovate dishes that are prepared out of unconsumed (left over) food in the best possible way to be used in next meal service. Effective FIFO (First In First Out) system is followed for consumable items to eliminate food wastage.
3. Water Management
Flushing of urinals is timed appropriately during the day time and closed after institute timings. Presently the timings are set at an interval of 20 minutes. The flush tank attached to urinals is of 5 liters and 7 liters capacity. After institute timings (5:30 pm) the flush system is closed to ensure water is not wasted. Maintenance department ensures that the system is followed properly. With this practice, about 100 liters of water is saved in every half an hour.
Showers are replaced with buckets in the hostels accommodating 150 students and this saves 2900 liters of water per day. To observe World's Water Day, Holi was celebrated without water in the institute.
Approximately 600 litres of water discharged from dry cleaning machine is collected and used for general cleaning purposes and gardening. In Food Production labs, no individual washing of knives is done. As practice, knives are collectively disinfected in chlorine water. All the knives of the practical kitchens are disinfected collectively for a batch (ranging from 30 to 50 students, the number varying from semester to semester) in a basin which contains just 2 litres of chlorine water, in comparison to half litre per pupil if done individually. The vegetables are washed in a container rather than under running water.
Water discharged from12 RO Water machines is collected and utilized in the cleaning of the institute.
4. Reduction of use of Paper
Used paper chef caps are collected and sent for recycling, since 2014. In the month of April, used Chef Caps were recycled for 260 rupees. 90% of faculty are using soft copies for giving student handouts via emails. The institute functions such as annual day, farewell and Holi festival were promoted through e-posters and all invites for Annual Day 2015-2016 session were sent through e-mail. In the institute's restaurant- The Scholars, short menus are verbally narrated by students, whereas recycle paper is used for elaborated menus. Hindustan Times collects all the waste papers from the institute on payment basis for recycling.
5. Increasing fuel efficiency and Reducing its wastage
The 70 gas ranges of the institute are serviced regularly to reduce LPG consumption. This service is under Annual Maintenance Contract Gas ranges serviced regularly to reduce LPG consumption. This service is under Annual Maintenance Contract.
6. Conserving Energy
"Walk the Talk"- is an innovative idea which encourages all the hostellers switch off electrical appliances and lights before moving out of their rooms every day from 6pm to 7pm and not be in their room but involve themselves in some sports activity. Because of this, a total of 196 CFLs, 70 Fans and 100 Tube lights are switched off daily from 6 pm to 7pm in the hostels.

Since 2014 Eco Club members are appointed as floor in-charges for each floor to check on to the wastage of energy and water. Students floor in-charges appointed to take rounds frequently and ensure that the electrical appliances and taps are turned off in the institute and hostels.
During day hour sunlight is utilized in classrooms by drawing off curtains, opening of window panes, hence 185 tube lights are kept switched off during the day. The staircases are lighted up by 10' by 10' size 4 number windows of the stair cases. Meticulous use of projectors is encouraged by mentioning on the projector issue register that the projector should be switched off when not in use.
876 tube lights in the institute are switched off till 7PM. This practice saves about 315 units of electricity per day. Only emergency lights are used to ensure safety and security. Also, in hostels alternate lights are switched off in hostels after 10 pm, to save electricity.
7. Use of Eco-friendly Products and Practices
Use of plastic bags is strictly condemned in the institute. At the time of receiving ingredients from store, the 8 Food Production Labs of the institute use 10 baskets in place of plastic bags for carrying 60 kgs of ingredients on a daily basis. The institute's laundry uses the best of the products from Johnson Diversey, which are biodegradable.
8. Measures to manage waste generated
Institute has 3 Vermi-composting pits which yield 180 kgs of manure in 3 months. All the organic waste which includes peels of vegetables, fruits, egg shells are separated out in the bins which are kept in labs. Vermi-composting is done using organic waste generated from food production labs.
9. Green Campus Initiatives
The Scholars promotes and implements "Green Dining". Under this concept following innovative practices are used:
9 micro greens are used instead of flower arrangement.
40 cloth napkins are used instead of paper napkins every lunch service.
11 liters of water is saved through glass decanters in the lunch service on a daily basis, replacing plastic bottles.
 Water is not served in the glasses; instead water is placed in the center of the table and the guest help themselves as and when required. The left over water in decanter is reutilized.
The institute has a Sewage Treatment Plant having capacity of generating 1,00,000 liters of treated water. Its water pipe line runs along the compound wall of the institute with 7 water outlets which is used for gardening, washing and cleaning.
2 Rain Water Harvest pits of the Institute have a capacity of 50,000 liters of storage. These are located under the front lawn and behind residential blocks. They collect water from the entire campus, including the roof of residential blocks and hostels. Interlocking tiles were laid in the front area covering a total area of approximately 10,000 sqft., in 2014.
70 solar panels are installed in the institute for heating water in hostels and kitchens. Total storage capacity of heated water from solar heater is 7000 liters. These panels cleaning done on regular basis.
Two zero noise generators are installed in the institute to cut down on the noise pollution as well.
As of March, 2016, the Institute boasts of an inventory of 1234 potted plants like Snake plant, Areaca palm, Syngonium, Asparagus fern, Bamboo Palm, Boston Fern, Cast Iron Plant, Coleus, Croton, Dracana, Ficus. These indoor plants used to improve air quality.
Guests of the institute are welcomed with saplings like that of China Palm and Colius, instead of flower bouquets. A designated room has been allocated for spinning of charkha, where students are actively learning the process.